Chili's has a couple Mex bowls on their menu. If your looking for something that hits the spot and doesn't give you that bursting out at the seams feeling, then you should try making one of these bowls. You can either use chicken or shrimp. Today I had a shrimp craving and this was pretty good. Once in a while I got a pretty spicy bite (for me), so I'm going to make the chipotle pesto optional.
You'll have to make the chipotle pesto first if you want it. Makes 4 servings
Ingredients:
3 chipotle peppers in adobo sauce, or more, to taste
1/3 cup grated Parmesan
1/4 cup pine nuts
1 clove garlic
1/3 cup olive oil
1/3 cup Greek yogurt
Directions:
To make the pesto, combine chipotle peppers, Parmesan, pine nuts and garlic in the bowl of a food processor; season with salt and pepper, to taste. With the motor running, add olive oil in a slow stream and Greek yogurt until emulsified; set aside.
You need a food processor to make the pesto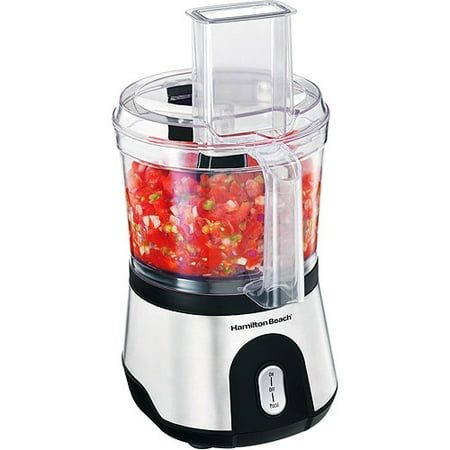 Shrimp Mex Bowl Ingredients: (Serves 1)
10 shrimp, deveined and rinsed
Salt and pepper, to taste
2 tablespoons olive oil
1/2 cup of mixed field greens
1 cup of Mexican rice, cooked
1/2 pico de gallo
1/2 cup corn and black bean salsa
1 avocado, sliced
1/2 cup shredded Mexican cheese blend
1 tablespoon cilantro (freshly chopped or dried)
1 tablespoon chipotle pesto (optional)
Ranch dressing, to taste
Salt and pepper, to taste, if desired
Directions:
After you've cleaned your shrimp, place in a bowl and season with salt and pepper. In a hot skillet on med/high heat add oil when hot, sauté your shrimp until they are pink and opaque. Set aside.
Cook your Mexican rice according to package instructions. Drain and transfer to a serving bowl. Add your greens, pico de gallo, corn and black bean salsa and your pesto (if using), Top with shrimp, avocado slices and cheese, sprinkle on the dried or freshly chopped cilantro and drizzle on the ranch dressing, to taste. Season with salt and pepper, if desired (I didn't need any). Yum Yum!
Couple items you may need: