Cute, Cute, Cute Mini Grasshopper Cheesecakes for St Patrick's Day or any day for that matter. But, Pillsbury knows how to make the day fun and delicious! Only 7 ingredients, but plan on creating these on the weekend (hey, today would be good) these cuties take over 3 hours to make. Makes 18.
Ingredients:
1 roll refrigerated sugar cookies
1/4 cup butter, melted
2 pkts (8oz ea) cream cheese
2/3 cup granulated sugar
3 eggs
1/3 cup green Creme de Menthe liquor
Whip cream and chocolate shavings or sprinkles, if desired
Directions:
Preheat oven to 350°F. Cut cookies into slices as
directed on roll. Place 2 inches apart on 2 ungreased large cookie sheets. Bake 14 to 16 minutes or until cookies are deep golden brown and crispy. Cool 1 minute; remove from cookie sheets to cooling rack. Cool completely, about 10 minutes. Crumble about half the cookies into fine crumbs to make 2 cups cookie crumbs.
In small bowl, mix cookie crumbs and melted butter. Place foil baking cup in each of 18 regular-size muffin cups. Press about 1 tablespoon cookie mixture in bottom of each baking cup. Reduce oven temperature to 300°F. Bake 5 minutes.
In large bowl, beat cream cheese and sugar with electric mixer on medium speed, scraping bowl frequently, until smooth and creamy. Add eggs, one at a time, beating until smooth after each addition. Stir in liqueur. Pour about 1/4 cup of the filling on top of each of the cookie crusts.
Bake 20 to 22 minutes or until edges are set and centers are still slightly jiggly. Turn oven off, and open door slightly. Cool cheesecake in oven 30 minutes. Remove from oven to cooling rack; cool at room temperature 30 minutes. Refrigerate about 2 hours or until cheesecakes are chilled. Top with sweetened whipped cream and chocolate shavings or sprinkles, if desired. Yum Yum!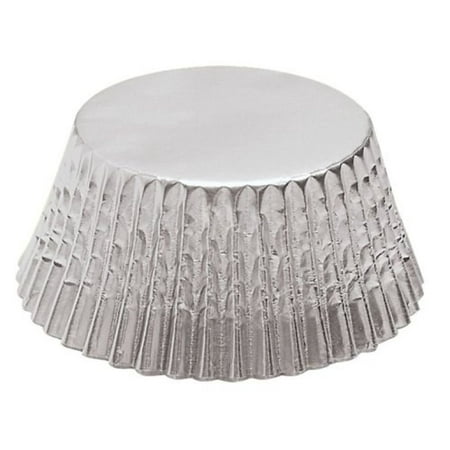 Very hard to find 18 cup muffin pans, but they do exist.
https://www.kitchencollection.com/sil-18cminimuf-pn-ls-002-42963-link
I'm sure you could get by with this one